Prague - PPT
Crime prevention measures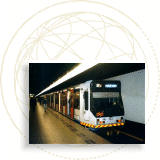 To stay ahead of the negative consequences of westernisation, the Prague Public Transit Co., Ltd. (PPT) pursues a prevention policy which is based on a high level of formal control, strong discouragement of fare evasion, and the creation of a pleasant atmosphere within the stations. Unfortunately enough, the original designers and planners of the stations did not pay any attention to the establishment of visibility. This has resulted in a high number of labyrinth-like passageways, sharp and unsurveillable corners, and wide columns on the platforms.
To compensate for the unsurveillable design, the company has installed CCTV cameras in all stations. These cameras monitor the pedestrian subways, staircases, escalators, gangways, platforms, and entrances to service areas during the whole operation time of the system. Each station entrance is watched by a supervisor. Some of the stations contain special police rooms. Police trained for the metro visit the station areas on a regular basis.
The battle against fare evasion is taken most seriously by the metro company. All stations are equipped with ticket markers. Single-journey tickets are valid 60 minutes after marking. At the end of 1994, the PPT employed a total of 78 full-time ticket inspectors, an increase of 96% on the year before. During 1 to 2 weeks of cooperation with the public police, this team carried out a number of mass checks, making the checking activities more visible and improving the payment morale of the general public. This increase of ticket inspection activities, in combination with a strengthened policy of consistent enforcement of fines, resulted in a 43% increase of collected revenues compared to the year before.
Some effort is put into the beautification of the stations and consequently improving the public's perception of the metro system. The utilisation of aluminium coverings against the platform walls is an especially good idea that should be used in other metro systems as well. The aluminium coverings not only enhance the attractiveness of the station, but also reduce the opportunity for graffiti offenses and enhance the effect of the existing light sources.
Source: López, M.J.J., Crime Prevention Guidelines for the Construction & Management of Metro Systems, Den Haag: RCM-advies 1996, pg. 35-39.

Order this book