Amsterdam - GVB
History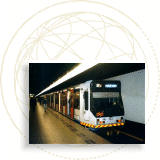 In 1977, one year after São Paulo and Washington D.C., Amsterdam opened its first strip of metro. This strip and its extension in 1980 increased the accessibility and quality of life and work in the inner city. However, it also became a cause for serious criticism concerning the expenses (which, due to the large number of archaeological findings, proved to be more costly than calculated) and civil protests against the consequent demolition of houses in the Nieuwmarkt neighbourhood. Because of this, the plans for more subterrain metro lines were annulled for the time being.
Now, almost twenty years later, the system still has its original layout. The combined system of two metro and one fast tram lines total 40 kilometres of track, 39 stations, and 69 vehicles.
However, this situation will soon change as a result of a new spurt in metro-expanding activities. In 1994, the Amsterdam metro carried 175,000 passengers per day. By the year 2005, this number will probably have tripled to around 500,000 passen­gers per working day. Construction of the new Ring Line is now in full swing. This surface metro line is planned for opening in Spring 1997 and will then carry an estimated 80,000 daily passengers. In 2005, the Amsterdam Metro Company hopes to bring the North-South Line into service. This line will connect Amsterdam with Schiphol Airport, carry an additional 180,000 daily passengers, and stop at 7 stations.
Source: López, M.J.J., Crime Prevention Guidelines for the Construction & Management of Metro Systems, Den Haag: RCM-advies 1996, pg. 30-32.

Order this book