São Paulo - Mêtro
History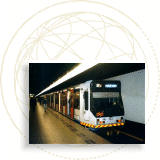 Although the first project for the construction of a metro in São Paulo was awarded as early as 1927, it took more than forty years before the São Paulo Metropolitan Company was created and the works of the first metro line were initiated. Throughout that whole period, São Paulo City blossomed from a small city into a vast metropolitan sprawl. The city grew tenfold, its industry boosted, and São Paulo developed itself into Brazil's economic powerhouse. The process of hyper-urbanisation and rapid economic development were, however, paralleled by serious urban and social problems. The majority of São Paulo's population lives in economically difficult circumstances. A large number of children live on the street and the levels of both violent and property crimes is a significant day-to-day problem for every citizen and visitor of the city.
In this decorum of rapid industrial growth, hyper-urbanisation, and growing social problems, the metro system of São Paulo emerged. In 1966, the Metropolitan Executive Group (GEM) was founded and delivered a preliminary plan for the construction of the first Brazilian metro system. Only two years later in 1968, the São Paulo Metropolitan Company was founded which only took seven years to elaborate a plan for the first São Paulo metro line and to put the first trains in operation. In 1975, trains linked Jabaquara station to Santana on the North-South line and works were initiated for the construction of a second line running from east to west. From 1975 to the present, the metro system is unfolding itself in bits and pieces throughout the whole metropolitan area. This approach reduces the maturity terms, investments, period of labour, and equipment idleness. Today, the metro system consists of 4 metro lines, a route of more than 43 kilometres, 50 stations, and 2.3 million daily trips. In 2010, the metro company hopes to have a total of seven lines and an extension of approximately 146 kilometres catering to 7.4 million passengers a day.
Source: López, M.J.J., Crime Prevention Guidelines for the Construction & Management of Metro Systems, Den Haag: RCM-advies 1996, pg. 26-28.

Order this book