Hong Kong - MTR
History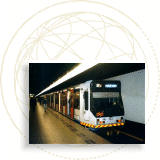 The Mass Transit Railway (MTR) Corporation of Hong Kong was established in 1975 with the aim to study, plan, construct, and operate a metro system for the British crown colony. This resulted in a total of three lines with an overall route length of 43.2 kilometres, 38 stations, and a total of 671 rail cars. Each line was built at separate times with the first one starting its full operation in late 1979, followed by the Tsuen Wan extension in 1982, the Island Line in 1986, and the Eastern Harbour Crossing in 1989. Of the 38 stations, 30 are underground.
The metro lines run through an area which is probably the most densely populated in the world. Hong Kong has an overall density of more than 5,500 residents per square kilometre. However, since most of Hong Kong's population is squeezed onto Hong Kong Island and Kowloon which cover less than 10% of the whole land area, the spot density of the area through which the MTR runs must be many times higher. The passenger numbers per weekday currently total around the 2.3 million, making the MTR system of Hong Kong also one of the most densely utilized per track kilometre in the world.
To cater to the ongoing growth in ridership as well as to the transportation demand connected to the future Chek Lap Kok Airport, two new metro lines are currently being planned and constructed: the Airport Express and the domestic Lantau Line. These two lines are planned to commence operation in mid 1997 and will have a partially shared, track of 34 kilometres. This will almost double the length of the existing MTR system.
Source: López, M.J.J., Crime Prevention Guidelines for the Construction & Management of Metro Systems, Den Haag: RCM-advies 1996, pg. 32-35.

Order this book